Riga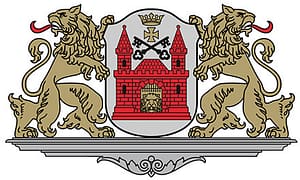 Administrative center: Riga
Districts: Centra, Kurzeme, Ziemeļu, Latgale, Vidzeme and Zemgale districts
Web page: www.riga.lv
Riga, the capital of Latvia, was officially founded in 1201.
Riga is located along the Baltic Sea at the southern coast of the Gulf of Riga, on the Rigava coastal plain. The historical core of Riga is situated on the right bank of the Daugava River, about 10 kilometers from where the Daugava flows into the Gulf of Riga. The natural terrain of this area is a flat and sandy plain, about 1 to 10 meters above the sea level.
Climate in Riga is influenced by its proximity to the sea; therefore it is moderately warm and humid. Summers are comparatively cool and cloudy (average temperature in July +16.9 C; average precipitation (rainfall) – 85 mm). Winters are comparatively warm with frequent thaws (average temperature in January – 4,7 C, thaw days are about 10 days a month). Snow cover forms in the middle of December and remain through the middle of March. About 40% of the days in a year are cloudy (overcast), average precipitation – 700-720 mm a year.